I like to think I "grew up" with Coremetrics. What I mean by that is that I began my professional web analytics career at Coremetrics and while I eventually left the nest, it will always hold a very special place in my heart. This is the story of how a loyal Coremetrics user came to realize that while not all web analytics tools are created equal, none of them are perfect, and more importantly, they each possess unique features that can give you the advantage you need in certain scenarios.
I began my career in web analytics in 2007 when Coremetrics offered me a job on their SurfAid support team. SurfAid, which has since been sunsetted, was a log-based analytics tool that Coremetrics acquired from IBM. I was brought on to learn SurfAid and then to help transition the IBM accounts from SurfAid to the Coremetrics platform, which meant I was migrated over to the Coremetrics team. From there I led the Coremetrics Best Practices Support Team, where I worked until 2011, shortly after IBM acquired Coremetrics. My nearly 4 years at Coremetrics gave me a strong foundation in the functionality and usage of the tool; skills that I took to PFSweb and their ecommerce-focused digital marketing agency that had partnered with Coremetrics and was at the time, the only reseller.
Taking it to the Next Level
At PFSweb, I was given the amazing opportunity to build and grow an analytics team from the ground up. My Coremetrics experience gave me the edge they needed to help create structure and processes around their implementation and consultative services. I also became involved in the sales cycle, as a functional expert who could explain this new area of our professional services to clients.
Through the sales process, I began to work with clients who had previously used Site Catalyst, Webtrends, Google Analytics, etc. and I started to realize that I needed to learn more about the other solutions in the industry so I could explain why we had partnered with Coremetrics. I also began to wonder at times if I should be hedging all of my bets on Coremetrics alone. This began what I like to call my digital analytics evolution and over time, I developed a desire to become product agnostic, to learn how each tool works, its advantages and disadvantages, so I, as a consultant, could make the best recommendation possible to my clients.
Enter Google Analytics
This was about the time Google (GA) came into my life. Now of course I'd heard of Google Analytics and was able to parrot back what I'd been told about GA in my earlier analytics years, but it wasn't until this time that I was actually formally introduced and GA and I shook hands.
Many of my existing clients were running the free version of Google Analytics on their sites, along with Coremetrics, in order to have a back-up of sorts. Since it was free, I felt this strategy made sense and encouraged it, but remained rather guarded and cautionary when it came to Google Analytics data. As I'm sure any enterprise analytics tool user can attest, I was taught that GA was not to be trusted. Its data was presented in a way that benefited Google, and their lack of full data sets, support and transparency about their data processing methods made it a substandard and perhaps even sketchy tool. Had I ever used it? Not beyond looking at a few standard reports. Why would I? It was a free tool and therefore, could not be worth my time.
The formal introduction came when PFSweb took on a client who was new to the ecommerce space and did not have the budget for an enterprise solution. They could only afford to implement the free version of Google Analytics, with a small budget for a few hours of monthly digital analytics reporting services. For the first time, I was forced (yes, I would say partially forced at the time), to take Google Analytics seriously. I can't say I was impressed right away. What I would say is that over time, and with the addition a few more similar client situations, I began to realize that there was more to Google Analytics than I had been "raised" to believe.
I started to get more and more exposure to Google Analytics. Over the next couple of years I began reading and hearing about Google Tag Manager, Universal Analytics, etc., and my team members voiced their appreciation for some of its features. I realized that Google was investing time and consideration into their product development and roadmap, but I was not quite yet convinced and far from an expert.
Then came the day when I decided to move on from PFSweb. As I began to look around for my next opportunity, one big question stood out to me. Should I stick with a Coremetrics-centric role or company or should I try to branch out, learn a new tool and truly evolve into the product agnostic analyst I wanted to become?
The Path to Becoming Product Agnostic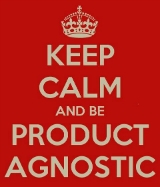 Vertical Nerve became my new home for a variety of reasons (mostly the completely awesome people working there). The fact that they are a Google Analytics Certified Partner made me a little nervous, but I wanted to stay optimistic and open minded. I also knew that as a Google Analytics Certified Partner and Premium Reseller, they would know the ins and outs of GA better than anyone and if I really wanted to learn about the tool, that's where I could do it.
It only took about 3 weeks before I came to the realization and admission that Google Analytics is not the substandard tool I had assumed it to be for so many years. Here are some of the pre-conceived notions I had and what I realized after only a few weeks.
Preconceived Notion #1: Google's marketing attribution methods are biased.
Realization: Google has developed many attribution methods and now has a data driven attribution model available in the Premium version that is more advanced than the attribution models in any other digital analytics tool I have used. With other enterprise tools, you would have to pay for a third-party attribution tool, such as Visual IQ, to get a data driven model.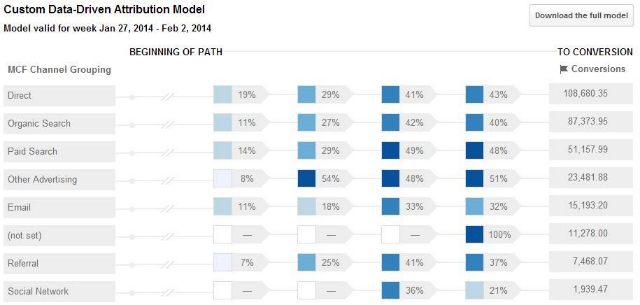 Preconceived Notion #2: Google Analytics doesn't have very advanced analysis capabilities.
Realization: Just a few of the features that I love in GA that I couldn't get out of Coremetrics
Frequency & Recency reports
Goal flow
Custom attribution models
Override campaign tags
Multi-channel funnels
While there are definitely some ecommerce features that I miss from Coremetrics, I know Google is working on this area and I think it will be in line with my expectations before too long.
Preconceived Notion #3: The Premium version is too expensive.
Realization: I learned that a company with multiple sites can run all of their sites under the GA Premium price tag. For many companies, this could be in-line or even less expensive than contracting with Site Catalyst, Coremetrics, Webtrends, etc.
Preconceived Notion #4: Google Analytics owns your data and uses it for their own purposes.
Realization: You can opt out of Google Analytics data sharing, meaning they won't use the data for any automated processes that aren't specifically related to operating and improving Google Analytics or protecting the security and integrity of the data (which is what any other Analytics tool would do). For some reason people don't believe Google follows through with this promise, but I haven't seen any evidence to the contrary yet, so I've decided to give them the benefit of the doubt.
Preconceived Notion #5: Google Analytics (free version) doesn't provide support.
Realization: Google has invested a lot of effort into building a large and easy-to-navigate resource base and online forum for users. I have yet to come up with a question that hasn't been answered via the online resources or by asking other users. In fact, I would say this method of support has been quite effective, and often more effective than your typical product support. I love that I can connect so easily with other users of the tool.
As a GA Partner, I now have more visibility into the product roadmap and I can definitely say I'm excited about the direction the product is going. There are some high tech, useful enhancements and features on the way, and I'm definitely going to enjoy using them and adding them to my analytics tool belt.
The Journey Continues
All in all, the final outcome is that I have made a big leap towards becoming product agnostic. I can see that every tool does in fact has its advantages and disadvantages and I feel that I can make a less biased analytics tool recommendation to my clients, based on their specific business requirements. I have already found cases in which I think Google Analytics Premium is the best solution.
I am proud to say that I am no longer loyal to just one tool. I am now a digital analytics consultant loyal to my industry and dedicated to recommending the right solution for my client's needs.