Writing a blog is a great way to promote a business through quality and fresh content, which will (hopefully!) capture the attention of users. If the content of your blog is meaningful, fresh and original, then you are making a good start to improve your website's traffic, incoming links, reputation as an industry leader, and (potentially) conversion rate.
In order to measure the performance of your blog, you will need to rely on data that will give you in-depth insights regarding the blog value. Below I provide a (non-comprehensive) list of reports, user segments and custom implementations that should be used for such an endeavour.
All Traffic [Report]
In order to review the overall acquisition power of your blog, the All Traffic report is just what you need, as it provides you all sources and mediums that led people to your site.
This report should be filtered to include only the blog directory. Choose Landing Pages as a secondary dimension and then apply a filter to include only your blog directory as in the screenshot below: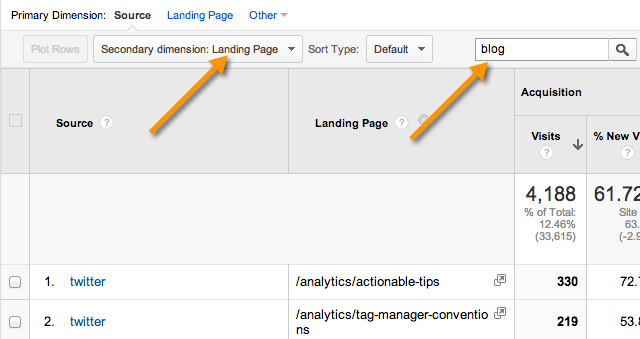 Referral Traffic [Report]
One of the most powerful reports in Google Analytics' arsenal is the referral traffic, which indicates all the third party websites that bring visitors to your site. This report will tell you in more detail who is linking to your website and from which page, this way you can also promote their content.
To understand better where your blog visitors are coming from, you should go a step further and filter your landing pages to include only blog pages in the same way as above. In addition you might want to check the tip below, it describes how to get the full referral path from where a third party site is linking to you.
Social Media Traffic [User Segment]
In order to monitor social media channels that brought visitors to your blog posts you can use this user segment (direct link to your account). Basically, it includes all visits that came from a social network website and landed on the blog. Once you apply the segment, every report on Google Analytics will show data only for this segment.
Mobile and Tablet Traffic [User Segment]
Would you like to measure the performance of your blog and blog posts on mobiles and tablets? What kind of categories grabs the attention of your visitors (who use mobiles and tablets)? If you want to know your mobile-based and tablet-based traffic, then you can use this user segment (direct link to your account).
Event Tracking & Custom Variables [Implementation]
Would like to understand better how your visitors consume content? You can use Justin Cutroni's advanced content tracking. Among other things, you will learn the following on a per-post and per-blog basis:
Article load: this will tell you if visitors stay until the page is finished loading and will be used to calculate the % that loaded the page but did not scroll down.
Start reading: visitors that at least scrolled down to read your content further.
Content bottom: visitors who reached the bottom of the article.
Page bottom: visitors who reached the bottom of the page.
Custom Variables for Authors [Implementation]
If you have multiple bloggers and you would like to track the performance of your authors, you can use custom variables page level. Send your developer to this link and ask him to implement it using the author names.
This list is in no way comprehensive, there are multiple ways to use Google Analytics to optimize your blog and/or site. Here are some additional Google Analytics tips. Now is your turn!