This article presents some of the Tips & Tricks shared by me in the MeasureCamp unconference, on a session called 'GA Tips and Tricks' (presented together with Tim Leighton-Boyce). Both slide decks are publicly available and linked below. The tips are moderately advanced techniques but all approachable by anyone with reasonable JavaScript and Google Analytics (GA) skills. I'm happy to take questions on the subjects via the comments below or Twitter.
Super Content Tracking Script
This is not a new technique – it is reasonably well known but definitely worth sharing and demonstrating. This Script, published by Justin Cutroni, is an enhanced tracking technique on a range of sites including blogs. The data generated by the tracking script is incredibly rich. If you want to see a solid reflection of reality in terms of user content consumption behaviour on your site this is a must have script. According to Justin, here is what the script tracks:
How many people scroll.
When a person starts to scroll.
When a person reaches the end of an article.
When a person reaches the botton of the page.
Which website visitors are scanning my articles and which are reading my articles.

We will be able to get an accurate measure of which articles are actually read. We can even see which articles are so engaging that visitors continue through the comments to the botto of the page. Very useful stuff.
Keyword (Page) Ranking
Another tracking script that I've used recently also comes from Justin Cutroni: keyword ranking tracking, developed in partnership with AJ Kohn. The script measures "the individual keyword rank, group keywords together into indexes and then track the average rank of those indexes over time – all with Google Analytics." And for the tracking they use GA events – very cool! As you probably noticed, we all see a lot of '(not provided)' but, as the deck explains, this is not a problem. The opportunity afforded by this script is to optimise pages – not keywords. You know which keywords your pages are optimised for so you can see the SERP position of pages in the event report – neat!
Enhanced In-Page Analytics
A few months ago the Google Analytics team rolled out an enhancement to the In-Page Analytics feature: Enhanced Link Attribution. According to their help page (previous link), this improvement will provide the following to its users:
See separate information for multiple links on a page that all have the same destination. For example, if there are two links on the same page that both lead to the Contact Us page, then you see separate click information for each link.
See when one page element has multiple destinations. For example, a Search button on your page is likely to lead to multiple destinations.
Track buttons, menus, and actions driven by javascript.
It is worth doing this as it costs very little in terms of time and effort. And while it may not be as rich as something like ClickTale or CrazyEgg, in many circumstances it is a solid analysis technique.
Preventing Multiple Transactions Tracking In Google Analytics
Tim tweeted recently about a server-side technique that prevented repeated transaction tracking in GA. Think about it – you present a receipt page on your ecommerce site and users refresh the page to "make sure" (!) and then bookmark it for reference. Every time this happens, the transaction gets tracked in GA making a mess of your data. This technique uses javascript and cookies and it has been in the wild for quite a while so it's battle hardened and worth using. Using this technique with Universal Analytics is the next step…watch this space!
Bonus Tip: Google Analytics Keyboard Shortcuts
When you're looking at a GA report, type "?" and you will see the following box: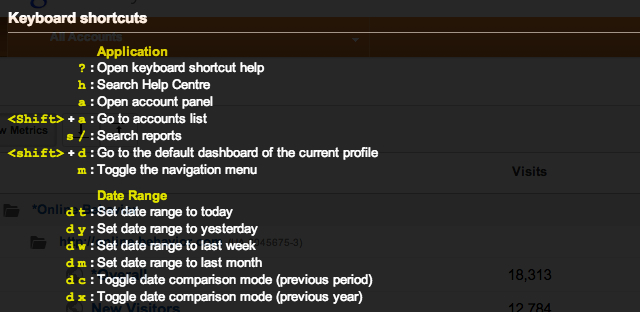 Keyboard shortcuts make browsing and using reports in GA super fast. Use them – get used to them. Keyboard shortcuts are 'the new black' – very cool.
I anticipate Tim and I will continue to offer GA Tips and tricks in the future MeasureCamp events. It is a great opportunity to help fellow #measure professionals get the maximum value from Google Analytics and to keep up with the rapid pace of change on GA.
Doug Hall GA Tips and Tricks Deck
Tim Leighton-Boyce GA Tips and Tricks Deck
Related Content